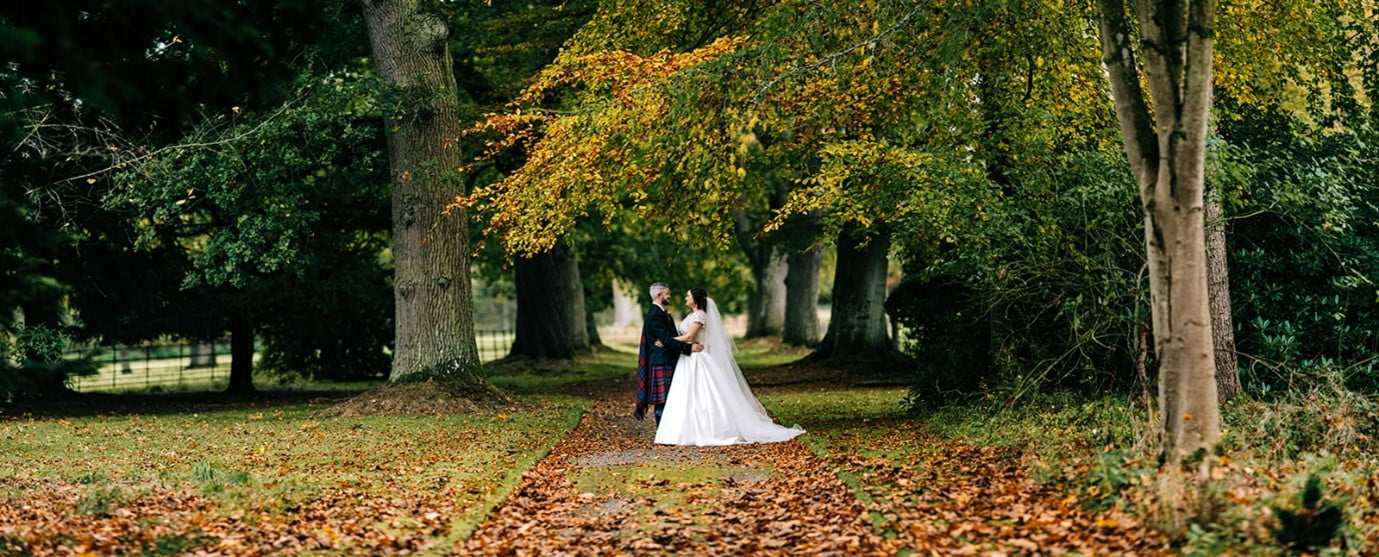 Autumn is a beautiful time of year. It represents change – the changing of the leaves, the start of a new school year and the move towards the holiday season packed full of nostalgic memories and traditions. 
Though it's sad to wave goodbye to the summer, we relish the autumn at Errol Park. There's something quite magical about this season; the sounds, the smells, the long invigorating strolls through fallen leaves, and of course the colours. The trees are draped in vibrant reds, yellows, oranges and golds enhancing the breath-taking backdrop. The fields are a sea of deep green and the mountains come alive with striking purple heather.  It's perhaps the most beautiful time to be in Scotland. 
It's also an ideal time for a romantic wedding. The daylight hours are shorter, yet there is ample time for capturing stunning photography in the breathtaking autumnal setting.  The warmth of the autumn colours and the hazy midday sun as it breaks through the trees will have you forgetting the cooler temperatures. Picture deep red for bridesmaid's dresses and gold accents in pretty much everything. 
The stunning autumnal light streams across the stables and into the picturesque courtyard, perfectly set with a warming fire-pit. Use nature as your design inspiration, consider a floral display bursting with reds, oranges and golds or pumpkins and gourds as your table centres. Our award-winning caterer Hickory creates inspirational and mouthwatering menus using the finest seasonal produce to compliment your wedding theme. A sensational seasonal wedding package – what's not to love? 
Autumn is also a great time to plan an exclusive get-away with family and friends, reconnecting with each other and mother nature. Walks in the Perthshire countryside are an absolute treat of vibrant colour and hues, the sea is at its warmest, the rivers in full spate and, if we're lucky, the Indian summer sunshine will keep us warm during daylight hours. 
There's no better feeling than coming home to your own cosy luxury mansion house after a day of discovery in the great outdoors. Your cheeks are a hint of pink and your toes need to be warmed by the crackling fire. Early sunsets, evenings snuggled up on the sofa and frosty mornings are a gentle reminder of the seasonal transition. As you settle in for the night you might consider a whisky or gin tasting. The drawing room is the perfect space to host a tasting. Or perhaps you'll be entertained by local musicians whose traditional folk music is sure to have you toe tapping or whirling around the room. Such fun!